Stretch Wrap, also known as Pallet Wrap, is a highly stretchable plastic film that is wrapped around items to help secure them. Most commonly used to wrap around pallets of goods to keep them stable, pallet wrap can also help resist moisture. The elastic recovery of the film (known as 'memory') keeps the contents tightly bound. Another use for Pallet wrap is to wrap boxes of any size. This helps reduce extra costs. It also adds a degree of water resistance to the items inside. Another advantage of wrapping boxes in this way is you can use it to wrap two or more boxes together for safer (and often cheaper)freight. Pallet Wrap is available in many thicknesses, primarily between 18 and 30 microns.

We supply Stretch wraps in three colours – Transparent. Black & White. All of our wrap is 500mm wide, with a 50mm internal core diameter which is industry standard, to ensure it fits into the hand held dispensers, which we also supply. We also keep Machine Wrap in stock. Pallet Wrapping machines use a larger roll of wrap again in different lengths microns and colours. It's important not to get the two confused as the smaller rolls do not fit the machines and the larger rolls are way too big for wrapping via hand.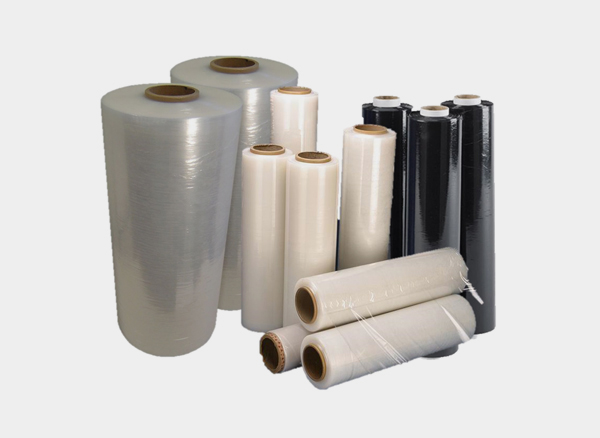 Stretch Wrap Film
Micron (µ)
Width (cm)
Stretch Ability %
Color
Roll Type
Core ID
18 mic
19 mic
20 mic
23 mic
25 mic
30 mic
35 mic

50 cm

150% & 250%
150% & 250%
150% & 250%
150%, 250% & 300%
150% & 250%
150% & 250%
150% & 250%

TP
TP
TP
TP & Black
TP
TP
TP

Hand & Machine Grade

50mm Hand grade & 76mm Machine Grade

Hand Pallet Wrap is the most cost effective method of keeping a load secured on a pallet. In addition to load stabilisation, pallet wrap provides a degree tamper resistance, and also dust and moisture resistance when products are wrapped with it. All rolls have an industry standard 50mm core diameter, and 500mm wide film, making them compatible with most stretch film dispensers.
Machine Pallet Wrap rolls of cast stretch film are the perfect product for those wrapping large quantities of pallets. Suitable for use with most standard pallet wrapping machines, machine rolls are a big time-saver. Our range has many quality benefits, including:
-High clarity film
-Quiet to apply
-Good puncture resistance
-Superb memory to keep loads stable.
Oxo degradable plastic films include an additive designed to greatly accelerate their ability to breakdown and degrade regardless of the disposal method or circumstances. An Oxo-biodegradable film breaks down fastest in direct sunlight and oxygen but even in a landfill situation, it will typically degrade in less than half the time of traditional stretch films. Most will agree the best disposal method is recycling and the Oxo additive does not adversely affect that preferred option.
-100% degradable and recyclable
-Harmless and non-toxic
-Superior mechanical properties for optimum performance
-Does not alter the physical performance and characteristics of the product