Packaging tapes are one of the most widely used industrial tapes. These packaging tapes are most commonly used in shipping and inventory management today. Packaging tapes can be used in various applications which normally include printing, lamination, metalizing, stationery, cable wraps, insulation, pressure sensitive tapes, flexible packaging etc. On the general basis, packaging tapes have two applications, first sealing storage boxes and second sealing shipping boxes. These tapes are specifically made for packaging purpose. The packaging tape comes in the variety of colours, lengths and widths. They can also vary in the materials and adhesive used to make tapes.

BOPP Tape (Biaxially Oriented Polypropylene) The commonly used adhesive packing tapes that are used in sealing medium to heavy-duty carton sealing, shipping, inventory management and in logistics industries are actually BOPP tapes. Polypropylene film can be stretched in both the directions thus mentioned as biaxial oriented. This stretching of the film increases the strength and clarity/transparency of the film. High tensile strength and rugged nature making it ideal to use for packaging and labelling. BOPP Tapes are also available in Brown colour & Printed Tapes.
BOPP Tape
Micron
Width
Length / Roll
Packing
45Mic To 55Mic
24mm
48mm
72mm

50 Yards
100 Yards
200 Yards
1000 Yards

36 Rolls / Ctn – 50 & 100 Yards
24 Rolls / Ctn – 200 Yards
12 Rolls / Ctn – 1000 Yards

Masking tape, also known as painter's tape, is a made of a thin and easy-to-tear paper, and an easily released pressure-sensitive adhesive. It is available in a variety of widths. It is used mainly in painting, to mask off areas that should not be painted. The adhesive is the key element to its usefulness, as it allows the tape to be easily removed without leaving residue or damaging the surface to which it is applied. Household masking tape is made of an weaker paper and lower-grade adhesive.

High Temperature Masking Tape - This tape is for higher temperature applications and provides clean removal when warm. Designed for applications where clean removal is required. Suitable for most paint masking applications.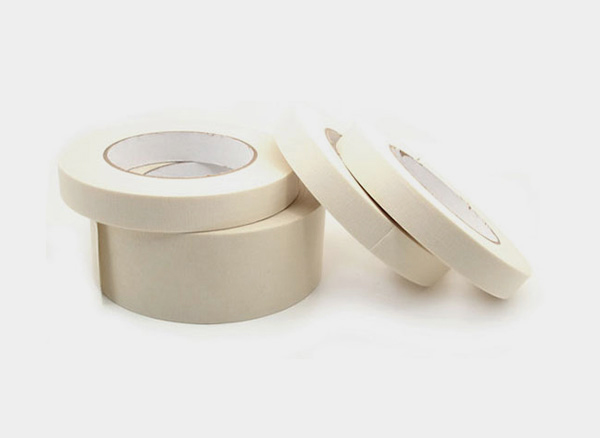 Masking Tape
Micron
Width
Length / Roll
Packing
140micron
1 Inch
2 Inch
3 Inch

25 Yards
25 & 50 Yards
25 Yards

48 Rolls
24 Rolls
12 Rolls